Yes, We Support Our Troops
I left The Barn about 8:30 for downtown Indy. It was a bout a 2-2.5 hour ride. I was SOOoooo glad we stopped about half way. I bought a 32 oz Gator Aid and chugged it down. It was a big help in finally finely making me feel 'human' again.

We were scheduled to meet with ALR (American Legion Riders) and MCR (Marine Corps Riders) in an old mall parking lot on Indy's east side and ride west into down town. Lloyd was there with water (good thing, it was HOT!!). And Terry was there with about 175 3x5 flags.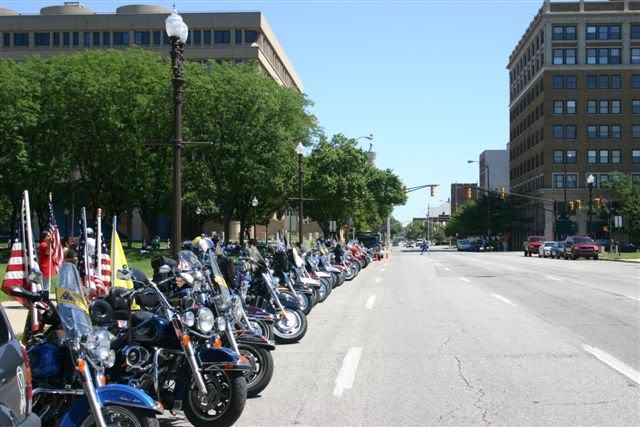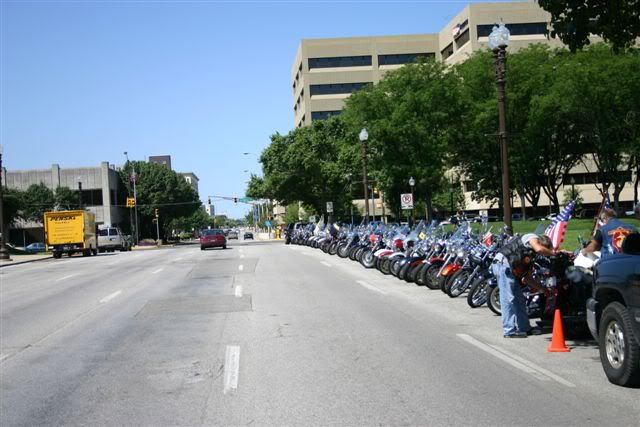 This was our second year to do this rally. It is cool, the group
www.USMCFamilies.com
puts the whole thing on. All we really have to do is line the steps with flags.

This year, they decided we 'needed some honor' and had us head up the steps while a band played a biker/patriotic song. The singer had been there last year and was inspired to write and perform for us this year.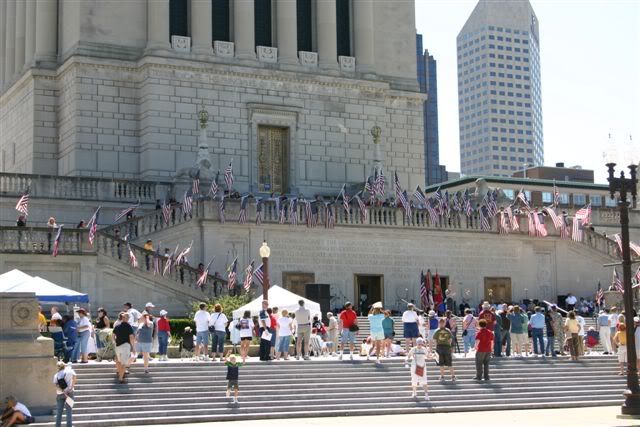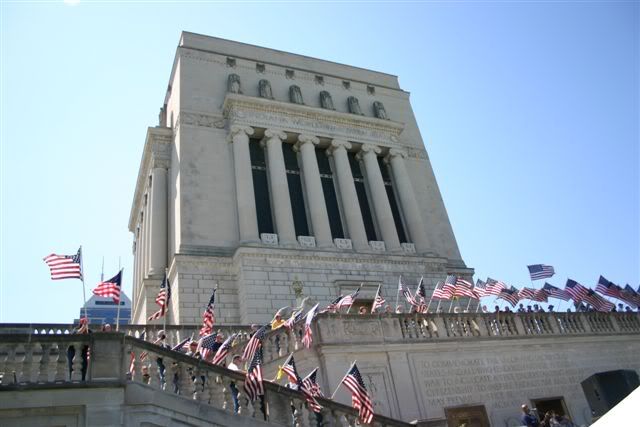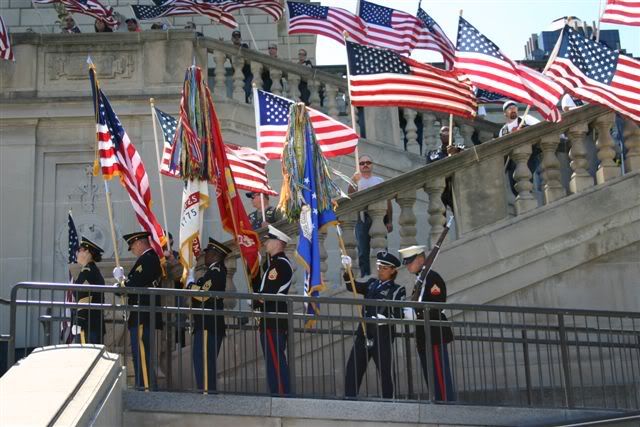 So, we took our place along the stairs of the War Memorial in Indy. We had about 100 people holding about 100 flags. It was a sight to see. (l got pictures, oooo, aaaahh).

From somewhere (about half way through) a group of political supporters that we don't care for decided to walk by yelling some crap... heh!! you should have seen 100 leather clad biker types head down the stairs with flags in hand. A rough line was formed and they passed on by. Apparently headed down to a rally of their own. The neatest part was the folks standing around watching asked if they could have a flag and join us. Before they could get by, almost all of Terry's 175 flags had been grabbed up and were flying!!! It was FANTASTIC!!!

One of the speakers L/CPL Klay South (fonder of Veterans of Valor
http://www.veteransofvalor.org/
) just had to thank us. Said something about there still being fighters in America and we will win this with people like this supporting us. He made us blush. LOL!!!

One of the highlights of the rally was John Kiger (country singer). He preformed his newest single "Ooh Rah Up" (he spells it oorah up). WOW!! What a powerful song and so true to the Marine spirit. You can find the song at
www.oorahup.com
. It is a 99 cent download and all of the proceeds go to USMC Families for the month of September. How cool is that!!! This is a video from the rally, but PLEASE, go down load the song... it's only 99 cents!!





The rally finished with the members of USMC Families reading the names of all Indiana's fallen heroes.

It is my honor to list their names here.
Allen Jr. Ronald D. - Specialist
Amos II John D. - Private 1st Class
Babb Brock A. - Sergeant
Balmer Ryan A. - Technical Sergeant
Baughman Nathaniel S. - Corporal
Beadles Jason J. - Corporal
Bechert Michael A. -
Black Jarrod W. - Sergeant
Blair Jonathan F. - Corporal
Blakley Richard A. - Staff Sergeant
Blodgett Clinton C. - Specialist
Blue Shaun M. - 1st Lieutenant
Boling Craig A. - Sergeant 1st Class
Brown James - Lance Corporal
Buckley Roy R - Specialist
Carter Curtiss A. -
Childress Kyle William - Sergeant
Clemens Brian -
Colburn Gavin J. - Private 1st Class
Colvill Jr. Robert E. - Sergeant
Corban Jeffrey W. - Specialist
Davenport James R. - Lance Corporal
Deblanc Darren A. - Private 1st Class
Depew Cory R. - Private
Faulkenburg Steven W. - Command Sergeant Major
Faulkner James Daniel - Sergeant
Fiscus Michael -
Flanigan William T. -
Frantz Matthew C. - Specialist
Frickey Armand L. -
Frigo Nathan J. - Petty Officer 1st Class
Frist Luke P. - Specialist
Fritsche William R. -
Gamble Jr. Carter A. - Specialist
Gonzalez Zachariah -
GramesSanchez David J. - Lance Corporal
Hallal Deryk L. - Private 1st Class
Halling Jesse M. - Private
Hartge Nicholas S. - Private 1st Class
Harting Adam J. - Specialist
Heath David M. - Sergeant
Hensel Shawn D. - Private 1st Class
Hester Charles B. - Private 1st Class
Hill Joshua -
Hillenburg Eric - Lance Corporal
Hudson Christopher E. - Private 1st Class
Idalski Nicholas R. - Specialist
Jack Edward E. -
Jeffries William Andrew - Specialist
Johns Jason D. -
Jones Rickey E. - Sergeant
Keith Chad L. - Sergeant
Kimmell Matthew A. - Staff Sergeant
King Bradley D. - Staff Sergeant
Kirkpatrick David Austin - Private 1st Class
Langenbrunner Richard P. - Private 1st Class
Lee James -
Lewsader Jr. Roy P. -
Lueken Eric R. - Corporal
McKinley Robert L. - Private
McKinzie Antoine J. - Corporal
McLochlin Jeffrey -
Miller Jr. Frederick L. - Staff Sergeant
Monroe Christopher T. - Specialist
Montgomery Jr. Robert J. - Sergeant
Muralles Marcus -
Murray Jr. Robert W. - Private 1st Class
Pabla Paul - Staff Sergeant
Pahnke Shawn D. - Private
Penisten Brian H. - Specialist
Pfender Jonathan R. - Private
Powell Willard M. - Corporal
Proctor Joseph E. - Sergeant
Profitt Jason -
Putnam Cody A. - Corporal
Rios Duane Roy - Sergeant
Rojas Jonathan - Staff Sergeant
Sanders Gregory Paul - Specialist
Seal Aaron L. - Corporal
Seig Anthony P. - Private 1st Class
Shank Neale M. - 1st Lieutenant
Simmons David N. - Private 1st Class
Sirko Steven F. - Private 1st Class
Smith Darrell L. - Corporal
Snyder Norman -
Stahl Nathan E. - Private 1st Class
Strong Joseph A. - Specialist
Swain James E. - Lance Corporal
Thompson Lance M. - Corporal
Trost III Marvin Lee - Staff Sergeant
Weiss Andrew R. - Specialist
White Raymond L. - Specialist
Wiesemann Michael J. - Specialist
Wilkey Jr. David A. - Private 1st Class
Wilson Bryan S. - Corporal
Wright Jeremy -
Zubowski Scott A. - Lance Corporal